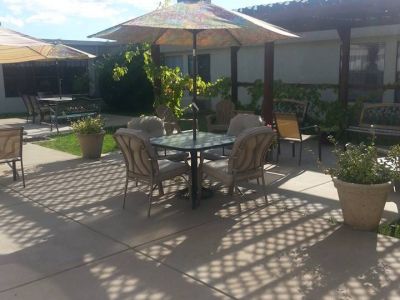 FACILITY 
Mountain View Manor is a 116-bed skilled nursing facility nestled in the Sandretto Hills of Prescott Arizona.  We have been providing skilled nursing and long-term care services to the community of Prescott and surrounding areas since 1984.
Mountain View Manor boasts highly skilled and friendly staff who take great pride in what they do for you to assure your comfort and care and meet your every need 24 hours a day.  Teamwork is at the core of how we make things happen, and the interconnectivity of our systems make for a coordinated fine-tuned operation with people who enjoy what they do.
SKILLED NURSING AND REHABILITATION
Our skilled rehabilitation unit features physical therapy, occupational therapy, and speech therapy in conjunction with our nurses and aides. The coordination of services includes assistance with what are known as ADL's (Activities of Daily Living), such as bathing, dressing, dining, grooming, walking, toileting, incontinence, or simply help getting in and out of bed.  The focus of this unit is to provide these skilled therapy and nursing services to achieve the most thorough and expedient stay and get you back home in your best possible condition.  Additionally, upon discharge to home, our social service department will assist you in arranging for services at home, as needed, to help you be successful at home.
Health Facilities Rehab Services provides long-term and outpatient services for residents in Missouri and Arizona.  Individuals receive professional physical therapy, occupational therapy, speech-language pathology, and industrial sports medicine services.
The Health Facilities Rehab Services team consists of over 300 licensed/registered therapists that provide services to the company's 36+ skilled nursing facilities (MO/AZ) and 4 Outpatient Centers (MO). 
Injuries/Disorders (and their management) at Health Facilities Rehab include:
Bone/Joint Injuries Therapy
Joint Replacement Therapy
Fall Risk Management
Functional Mobility
Joint Mobilization
Gaiting Training
Therapeutic Exercise
Splinting
Modalities
Manual Therapy
Back pain/Education
Spine stabilization
Neurologic Disorders
Stroke Disorders
Occupational Injuries
Articulation/Speech Therapy
Dysphagia/Swallowing Therapy
Receptive/Expressive Communication Therapy
Voice Therapy
LONG TERM CARE 
Our long-term care unit features nurses and aides who are oriented to individuals who require more assistance with activities of daily living.  Most often if you require long-term care, you are quite possibly dealing with multiple health issues, and our staff receive ongoing monthly trainings to stay informed of long term care health challenges and the very best way to treat and care for your needs. We equate our best practices to your successful outcomes, and we are here to assist you so you feel comfortable, confident and at peace.